Can you believe that it is September already? I am having trouble remembering where the summer went. I haven't been very good at keeping my blog updated. Please forgive me. School started two weeks ago and it has kicked my butt! All I have been able to do is barely keep up with reading my favorite blogs. Writing my own posts have been difficult because of my fried brain at the end of the day.
Without further ado, CURRENTLY SEPTEMBER: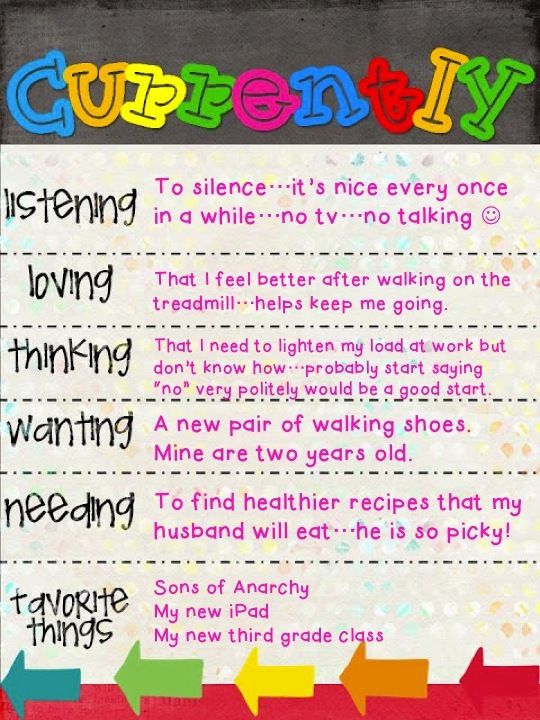 The two weeks before school started, I began a treadmill routine because I am in desperate need of exercise. I was doing well. I exercised every day. Then school started and I was exhausted by the time I got home (with more work to still do). I couldn't do it...for two weeks. Today I realized that I have to make priorities in my life. My health has to come before school. It is going to be hard. I got on the treadmill today and started at the beginning of my routine again. I felt great when I finished. Now, I didn't look great but I felt energized. My second goal is to find healthy recipes that my husband will eat. He is so picky about what he eats. If you have any to share, I would LOVE it!
My Favorite Things
1. Sons of Anarchy is my favorite TV show. I have watched all four seasons multiple times and I am eagerly awaiting September 11 when the new season begins. This is one of my guilty pleasures (better than eating chocolate though).
2. My New iPad - I recently received my retention bonus from work, so I treated myself to a new iPad. I love it!
3. My New Third Grade Class - For new readers of my blog, I am a Master Teacher for grades PK-4th grade, which is just a fancy title for instructional coach. One of my responsibilities is to field test (try out) new strategies before I give my teachers professional development on the strategy. I don't have my own class, but I borrow the third grade class (small school...only one third grade class of 21 students). They are FABULOUS! They actually clapped after the first two teaching sessions. They were so excited.
Now, its your turn. Go check out Farley's Currently post and link up. Don't forget to follow the Rule of Three!