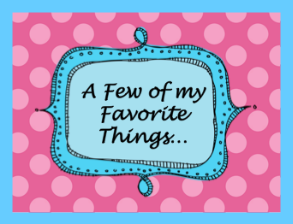 I thought Sunday would be a great day to share a few of my favorite things from the past week, so I am going to post great ideas, posts, products, etc. that I find every week.
Wise Guys wrote a post titled "Setting Ablaze Interest in the Classroom with the Kindle Fire." He checked out a Kindle Fire from the library and his students loved it. He had his kids create a pros and cons list about using the Fire. The only con was "not enough devices for the whole to use in a week." Do you know what he did? He bought three Fires with his own money to use in the class! Check out his blog post and leave a comment. He is looking for ideas and thoughts about using the Kindle Fires in his classroom. I would have loved to be in his class when I
was in
5th grade.
Science Gal wrote about a fantastic grant opportunity: Pets in the Classroom. If you are looking to get a classroom pet, check out her post because she outlines how it works and what you need to do. Her class received the grant and voted to a get a turtle (who they named Squirtle). Then head to the post "Meet the Turtle" to see the guidelines she set up for her class and meet Squirtle.

Sharing Kindergarten has a fabulous new product out in her Teachers Pay Teachers store. Teaching science sometimes gets put on the back burner with all the math and literacy that must be taught in kindergarten. Also, creating an engaging science lesson takes a lot of work. In her new "Lights and Shadows, Kindergarten Science Discovery" she introduces the science behind the groundhog seeing his shadow in a fun and engaging way. Let her do some of your lesson planning, go check out her lesson plans (just click her button above). Four dollars is definitely worth spending less time creating engaging plans.
Love this blog title! Mrs. Lirette shares ways that she turns her students into learning detectives. On Monday she shared a marvelous hall display that allowed her students to share good books. She called it "Marshmallow Writing." She created a huge cup of hot chocolate with the title "chill out with a cup of hot chocolate and a good book" and had her students write their book recommendations on a marshmallow. She shared the FREE template for the marshmallow. She also has created a new product line on Teachers Pay Teachers called Rock, Paper, Scissors. There is an addition, subtraction, and multiplication game. Each game is only $2.50! Kids love playing rock, papers, scissors. Here is your chance to make that educational.
I hope you have enjoyed "A Few of My Favorite Things" and come back each Sunday to see what other fabulous finds I have gathered for your enjoyment and to add to your resources.