Lots of great things going on in blogland this weekend, so I am going to share a few of my favorites.
I had my first giveaway for reaching 50 followers end on Friday and Amy from the Resource(ful) Room won a $25 gift certificate to Amazon. Check out her great blog:
I was awarded the Versatile blogger award by Tales From a 4th Grade Teacher. Thank you so much! It is wonderful when you realize that someone likes what you write (or sometimes ramble as I feel I do).
Caitlin at Ms. Preppy is hosting a Valentine's Exchange. The Holly Bloggy Christmas Exchange was so much fun! I can't wait to find out who my partner is for this exchange. Go check her out and sign up. There is a personal exchange and a class exchange. How fun would it be to make valentines and exchange with a class someplace else?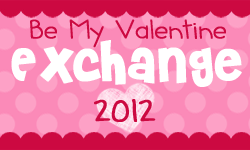 Jeannie at Kindergarten Lifestyle has a super fabulous FREEBIE called Fish Munch. Fish Munch is a game that involves learning word wall (sight words) and goldfish crackers. Love it! Check it out here:
Tammy at Forever in First has a great idea for using One Little Word with her students to make a book. Check her out here:
Mrs. Miner's Kindergarten Monkey Business and Kreative in Kinder are having giveaways for the Everything Kindergarten Expo. Each one is giving away THREE tickets. Both end on Sunday night, so HURRY!