Sales are on my top ten list of favorite things.
Teachers Pay Teachers
recently had a three day sale in honor of Teacher Appreciation.
Erica Bohrer's First Grade
had a great idea to share what was purchased during that time. Here are the wonderful things that I bought during that time. Each picture is a link to the item. Click away!
I had previously bought
MVP in Math for grades 3-8
because I was looking for ways to incorporate the Common Core mathematical practices more explicitly in third grade in preparation for implementing Common Core next year. I was so excited to see that Math and Science with TLC made a
K-2 version
, so I HAD to have it!
Next year, I am going to work on more journal writing and wanted a better way to keep up with my students' writing portfolio. Found great ideas for both of those! Erin Wing from
Small Types
has some fantastic
A-Z writing prompts
and
Writing Center
ideas that I am excited to use next year. When I was looking through what others had bought at the teacher appreciation sale, I found Hope King's
Writing Portfolio
idea.
Mo Willems is my FAVORITE author/illustrator. I have almost of his books. I am working on the Elephant and Piggie series...don't have all of them yet. I am using Hope Kings'
Knuffle Bunny
ideas on Monday for what I am calling "A Day with Mo." Next year I will use Sarah Cooley's
Pigeon Perfect
ideas.
Math Workshop is an important part of our day at school. I went looking for ways to better implement it next year and start off on the right foot. Ashleigh's
First Days of Math Workshop
will help me accomplish that goal. Then I found Marsha McGuire's (from
A Differentiated Kindergarten
)
Buggy for Subtraction
write the room activity that differentiated for different levels. I am always on the lookout for ideas to help ALL the students in my room succeed.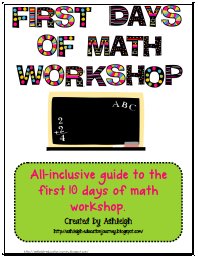 One of my favorite graphic artists is
Graphics From the Pond
. She recently created a really cute set of Dotty Borders and Badges clipart. The one below is an example of one of the badges. I am thinking that I can use the badges to label baskets, for name tags, and flash cards.
There are so many talented teachers out there, and I love shopping TpT because there are so many great ideas to use with my students. I hope you found something useful for the end of the year to use for next year. Hop on over to Erica's linky party and see what everyone else purchased this year (just click on her button below).