The end of the school year has come and this year's ending was bittersweet. Honestly, I am very much in need of a break, but part of me is also sad because one of my third grade teachers had to be riffed (reduced in force because of a declining school enrollment). I worked with a fabulous group of teachers this year as a master teacher. They made my transition from middle school (4th-7th) to elementary (PK-3rd grade) easy and fun. This week I received a fabulous present and thank you card from one of my kindergarten teachers.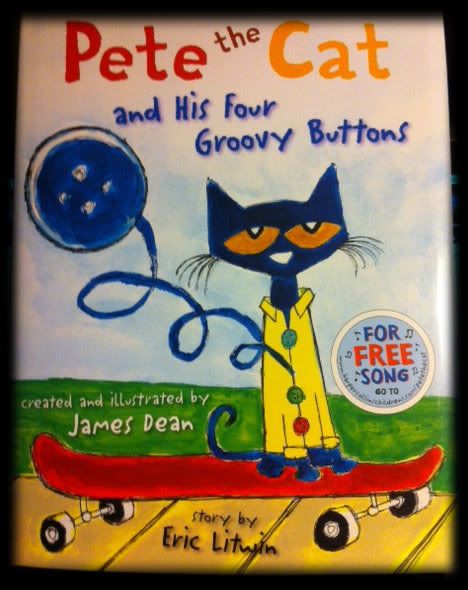 Her thank you note made me tear up. Most of the teachers I work with have been teaching longer than I have they but don't hold that against me when I introduce new ideas for them to try in their classrooms. They have been open with me and willingly tried anything I asked of them.
Pete the Cat is one of my favorite series in the picture book world. I used the original book with my
first graders
this year and they loved it! During one of our weekly teacher meetings, I had the teachers listen to the original song as I turned the pages of the first Pete the Cat book.
Each Pete book comes with a link to the author singing the words to the book, and the new book is no exception. In this new installment, Pete is losing the buttons on his shirt. Will he get upset; will he cry? Find out by reading this wonderful book to your students.
This book is a fabulous interactive read aloud because the students can participate by answer the question: "How many buttons are left?" The message in this book is also a great discussion starter: "I guess it simply goes to show that stuff will come and stuff will go. But do we cry? Goodness, NO! We keep on singing."
Here is the YouTube video preview for the book, so you can get a taste of the song:
If you can't see the video, click HERE.
The next video is an interview with the illustrator of the book:
If you can't see the video, click HERE.
I have two resources to share with you to incorporate this wonderful book into your math block. The first is from
Learning with Mrs. Parker
. She shares a free subtraction word problem handout. The handout has a fill in the blank word problem that corresponds to the book: "Pete the Cat has __ buttons. ___ popped off. How many does he have left." I recommend laminating this and putting it into a math workstation. The students can work in pairs: one student fills in the blank with numbers and the second student writes the number sentence and creates a drawing to show what is happening in the problem. Then the students switch place. You could also give each student their own and have them do a problem created by you or create their own problem and solve. Jump on over to her blog to download the free file and see an example of the completed sheet by clicking on her blog button below.

The second resource comes from Mrs. Miner's Monkey Business. I first found this resource on
Classroom Freebies
. Krissy provides a cute ten frame to use when solving math problems. She includes a 5, 10, and double 10 frame for your students to use. Get your free ten frame by clicking on the Classroom Freebie button below.
Looking for more great picture books with matching activities? There are two book linky parties going on right now. Don't miss either one!! First up is
Kindergarten Lifestyle's Picture Book Party
.
The second party is at
Run! Miss Nelson's Got the Camera
for All Time Favorite Read Alouds.