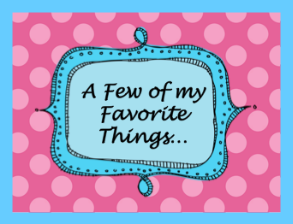 It's time again for A Few of my Favorite Things Sunday. ENJOY!
Bloom's Rainbow from The Teachers' Cauldron
Jen shares a great way to incorporate the different levels of Bloom's questions after a read aloud using skittles. She also includes a freebie of the questions. Click on her button below to be taken to the post.
Rachel of the fantastic Sub Hub has started her own newsletter full of fantastic information. Her first newsletter included a really cute poem about substitute teachers, a book of the month feature, and freebies. Definitely don't want to miss the next one. Click on the button below to be taken to the sign up form. Don't wait! Go now.
Reading Genre Posters
Beth from Studio 13 has created reading genre posters that she uses to help her students when they are completing their reading logs. She also has a Name that Genre game (with freebies to create for your classroom) and monthly genre graphs (tally and bar graphs). I love these posters and will be adding above my classroom library. Click on the image below to get her fabulous posters.

Brain Pop Resources
Recently, Angela from
The Cornerstone
gave away a free subscription to Brain Pop to a teacher who submitted a lesson and commented in the forum. And guess what? I won! This is the first time I have ever won anything. I wrote a lesson using one of the free videos "Nouns." Check out my lesson here:
We Love Nouns!
There is a lesson plan with free printables (word sort, noun poster, sort recording sheet). While you are there, check out the other great lesson plans.